About The World Wide Release DataBase Web Site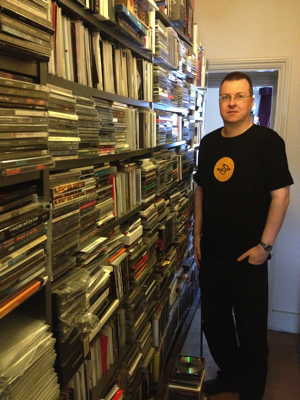 I (
Graham Needham
) started collecting records in earnest in 1985 and I became inherently interested in what my favourite artists had released so I could get all their music/collect everything they had released. In the 1980's there was no internet to obtain any information. The only methods available were shops,
record fairs
and magazines like Record Collector (in the UK) and Goldmine (in the USA).
In July/August of 1989 I had a summer job at HMV Cardiff (UK) and became even more fascinated by how the music industry/retail sales worked and the emphasis on promotional items and limited editions. At this point, thanks to one of my fellow staff members, I secured a set of the legendary, unreleased Depeche Mode four cassettes promo "Box Set". I basically wanted to know about everything an artist had ever released and was writing my own discographies to help me track down missing and rare items. I was good at it so I submitted some to Record Collector magazine and got them published. My first discography published was Depeche Mode in May 1989 (issue 117) followed by the Pet Shop Boys in February 1990 (issue 126). Record Collector then asked me to write the article text as well as the discographies so I obliged with many more articles/discographies and then Record Collector offered me a full time job - unfortunately I was still in school(!) so I had to decline the position.
I continued writing for Record Collector and then a new magazine, Spiral Scratch, appeared followed by "Music Collector" so I started writing for them too. During this time I was also writing a Jean-Michel Jarre fanzine (Destination Jarre) with a friend. In the late summer of 1990 Spiral Scratch/Music Collector offered me the job of "Record Information Officer". Having finally left school at this point I took the position. I helped write and check all the discographical information in both those magazines and penned a variety of articles and discographies myself. My article on Depeche Mode's Japanese box sets Chronicles #1 and #2 (Music Collector issue 29 - July 1991) has gone down in Depeche Mode lore as the definitive information on these rare box sets.
Unfortunately Spiral Scratch/Music Collector closed in 1992 so with my love of electronic music I setup my own collector's magazine CyberNoise which eventually by 1995 had turned into a digi-zine for the last couple of issues.
Real life got in the way for fourteen years but in 2009 I set about creating the ultimate music collector's web site/network. My company Burning Helix launched the site in August 2013 and here we are…
The WWRDB network web sites:
As an Amazon Associate I earn from qualifying purchases.