About The World Wide Release DataBase Web Site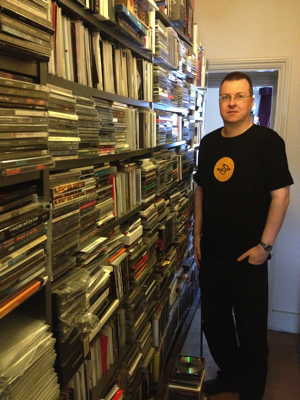 I fell in love with electronic music in the very early eighties before I was barely 10 years old. Creating my own mix tape from the Radio 1 Top 40 Chart Show and some of my parent's vinyl records using my father's hi-fi it included Kraftwerk, Jean-Michel Jarre, Yazoo, Depeche Mode, Ultravox, Visage, Gary Numan, the Human League, Orchestral Manoeuvres In The Dark (OMD) and Heaven 17.
Electro Hip-Hop followed with the Street Sounds Electro series and took me through to the latter half of the eighties until Gangster Rap destroyed Hip-Hop but by this time I was collecting synth-pop, new wave, new romantic and electro music in earnest.
And then there was the revelation. I was aware of how important the Mute Records label was to electronic music and one day in 1988, while browsing some 7" singles at a record fair, I came across a blank white label promo with the catalogue number MUTE 58 etched into the runout groove.
Duly purchased, without knowing who or what it was, I took it home and put it on the record deck. MUTE 58 is of course, Nitzer Ebb's "Let Your Body Learn". And this marvellous slice of vinyl turned out to be one of the biggest revelations in my life.
Aggressive rhythm machines spurting electronic body music. My life changed and a world of new music was discovered. No longer was the radio friendly mainstream music the only sound in town. Experimental, industrial, sampling, noise all became fair game to me.
I basically wanted to know about everything an artist had ever released and was writing my own discographies to help me track down missing and rare items. I was good at it so I submitted some to Record Collector magazine and got them published. My first discography published was Depeche Mode in May 1989 (issue 117) followed by the Pet Shop Boys in February 1990 (issue 126). Record Collector then asked me to write the article text as well as the discographies so I obliged with many more articles/discographies and then Record Collector offered me a full time job - unfortunately I was still in school(!) so I had to decline the position. I continued writing for Record Collector and then a new magazine, Spiral Scratch, appeared followed by "Music Collector" so I started writing for them too. During this time I was also writing a Jean-Michel Jarre fanzine (Destination Jarre) with a friend. In the late summer of 1990 Spiral Scratch/Music Collector offered me the job of "Record Information Officer". Having finally left school at this point I took the position. I helped write and check all the discographical information in both those magazines and penned a variety of articles and discographies myself. My article on Depeche Mode's Japanese box sets Chronicles #1 and #2 (Music Collector issue 29 - July 1991) has gone down in Depeche Mode lore as the definitive information on these rare box sets. Unfortunately Spiral Scratch/Music Collector closed in 1992 so with my love of electronic music I setup my own collector's magazine called CyberNoise.
CyberNoise was originally published between April 1992 and August 1995 (ISSN 0966-7636). Issues 0 to 3 were printed on 80gsm A4 paper and saddle stitched. Issues 4 and 5 were produced as "digi-zines" available on hand numbered 3.5" floppy disk (Mac or PC formatted) enclosed in an A5 plastic wallet with hand numbered insert. Around 1994/1995 most of the digital content on issues 4 and 5 floppy disks was made available on this crazy new thing called "the Internet". They were hosted on a Welsh university web site that did not even have a Fully Qualified Domain Name (FQDN) and was only accessible directly via an IP address. It then moved to http://www.zynet.co.uk/cynoise. It finally got it's own domain in 2000.
For electronic and esoteric music there were various underground fanzines and self produced printed material but many were low budget and/or concentrated on reviews and interviews. I wanted CyberNoise to be more professional. Although Music From The Empty Quarter magazine would become the industrial bible of the early nineties with its own quality and style I made sure CyberNoise specifically catered to collectors with the emphasis on release listings and discographies.
Since the original printed magazine closed back in 1995 I've continued to collect and document electronic music releases writing and maintaining discographies in PDF format on the old version of this web site. Finally, in 2010 I had the opportunity to start building the new CyberNoise web site (as part of a larger project, the WWRDB, that my company is working on). CyberNoise is now running on modern systems, code and databases to enable a fully featured matrix of electronic music information and resources. My passion for electronic music continues with this web site and through social media sites such as Twitter and YouTube.
If you want your news/music/band/label in the weekly CyberNoise Assimilation . Previous CyberNoise Assimilations can be found here. - Google Plus was closed in early 2019
The original CyberNoise artist sections are no longer available - the new ones are available under Data Bank > Artists A-Z.
The discog@cybernoise.com email address no longer works, sorry (this is the email address on the original PDF discographies).
The Streetsounds "Electro" pages are now available here.
World Wide Release DataBase is part of the World Wide Release DataBase (WWRDB) network of web sites:
As an Amazon Associate I earn from qualifying purchases.